So yesterday, I went radio shopping with my mom at Boni High Street and we ended up getting stuck in
Dimensione
. They have this radio that I've always been interested in since I first saw it two years ago: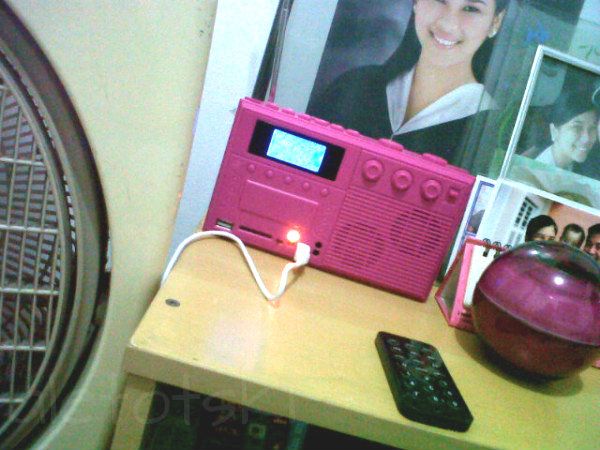 The first one I fell in love with was a blue version but I thought that the pink will match my now white and pink room so that's the one I got. Plus, it's the last pink unit they have on stock so letting it go is not an option for me. At that point, anyway.
It's not just a radio (with a screen! I didn't expect for it to have a screen because it looks like a vintage radio.) and that's the reason why I didn't hesitate to get it this time. You can actually use it as your iPod speaker and there's a port where you can insert your USB drive and play whatever's on your thumb drive. There's also a slot for an SD card, if you prefer storing your songs in your phone but don't want to use it as a player.
Another reason why I bought it? It has a friggin' remote control! That made the sale, if I may say so myself.
It is rechargeable, making it useful for rainy days like this, where electricity is almost always unstable.
This radio from Dimensione costs Php 995 now from Php 1,650 so you imagine my eyes lighting up when I saw the discounted price tag. I felt that I definitely should get it.
To tell you honestly, I don't really need a radio but I really missed listening to Wave 89.9's The Quiet Storm so here we are...