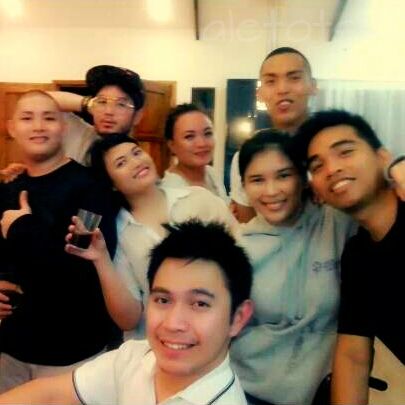 Here's a list of how my grade school friends spoiled me rotten over the weekend.
They were supposed to pick me up from Pasig then head to Tagaytay last Saturday. They're all from Paranaque.
When I convinced them that I'd just meet up with them in Bicutan, one of them picked me up from the bus station, armed with an extra umbrella, because I forgot to bring mine.
Same friend allowed me to smoke in his car because I told him I wanted to. Windows were closed because the rain was so strong. He is not a smoker.
I called shotgun and no one disagreed with me, even that one friend who has polio and preferred sitting up front.
They let me play hiphop music in the car the entire trip to Tagaytay. They all listen to party/dance music exclusively.
They let me choose which of their hoodies I wanted to use.
My friend who owns the house in Tagaytay asked us which bottle we wanted to open first. I said Jack. He gave us Jack.
He also allowed me to play hiphop music in their house, even with all the adults there.
One of our friends was supposed to head back home at 12mn because he had a basketball game the next day. He's a varsity player. He stayed because I asked him to.
I told them it'd be great to have coffee - tea, in my case - first before we headed back to Manila the next day because I didn't want to go home yet. We went to that new Starbucks place there.
They let me sit up front again.
They brought me home to Pasig. We all didn't sleep the night before and they were all so sleepy...well, except the driver, though, because he took a nap early Sunday morning.