When my mommy blog was still active, I keep on planning on posting a what's-inside-my-bag blog post because I thought that it was a necessity when it comes to mommy blogs but I also keep on setting it aside until I closed down the blog and didn't get to do it altogether. (I broke a lot of writing rules with that one.)
Now that I don't have to actually spend all my time seeing if Brianna will fall off the bed, I actually am doing it. Here's what's inside of my fulltime-mom-no yaya bag: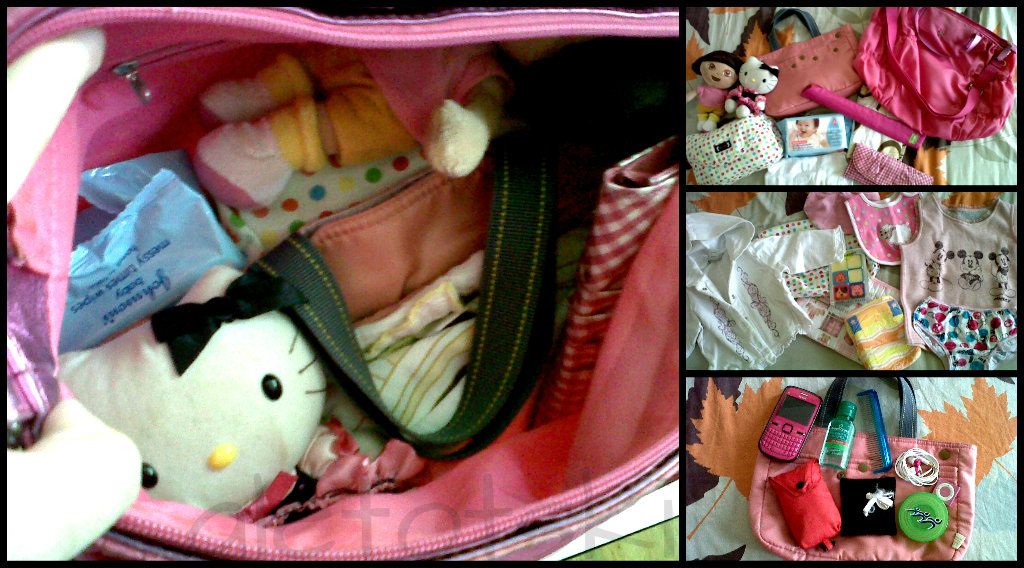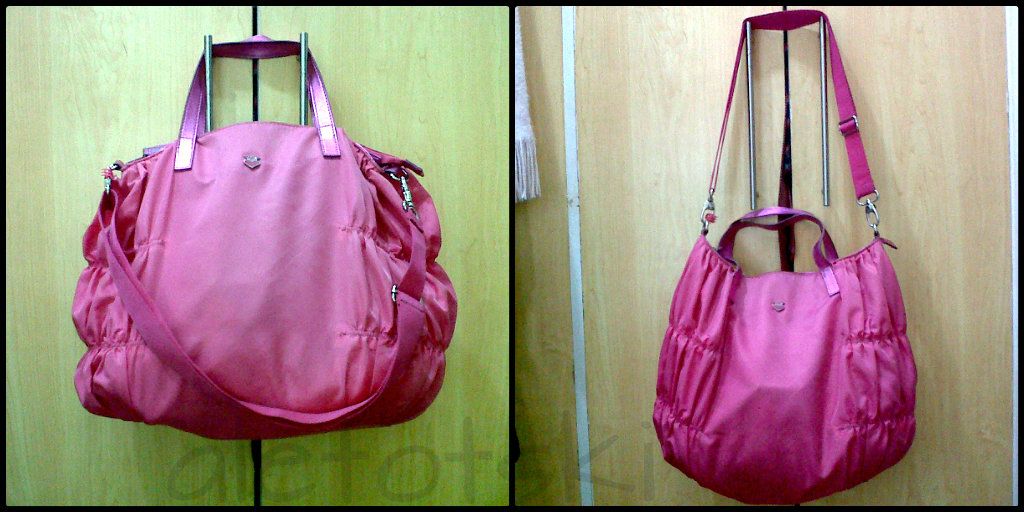 My bag is usually a big one whenever I am with Brianna because I don't want lugging around 2 bags, one for me and one for her. That makes sense, right? Anyway, this Segue bag we bought in Baguio carries all the stuff I need to bring when we go out. The longer strap makes it easier to carry. I know it's pink and it's hard to match but I don't really care about matching my clothes with my bag. I'm all about comfort, baby.
So first, my things:
Nokia C3, Green Cross 70% Isopropyl Alcohol, Goody comb, Philips earbuds, iPod Shuffle, portable water glass, La Sallian rosary, shopping bag
My things are all carried by this nifty bag organizer I bought in Multiply. If you notice, I don't have any kind of make-up in here because I do my make-up before I leave and I don't retouch anymore. I love how my face looks after a few hours in make-up. It looks more natural. I also don't have my Blackberry here because I always carry it in my pocket.
I bought Brianna's bag organizer from Multiply, too. The organizer is the polka-dotted thingy underneath everything. Yes, everything fit in that small organizer.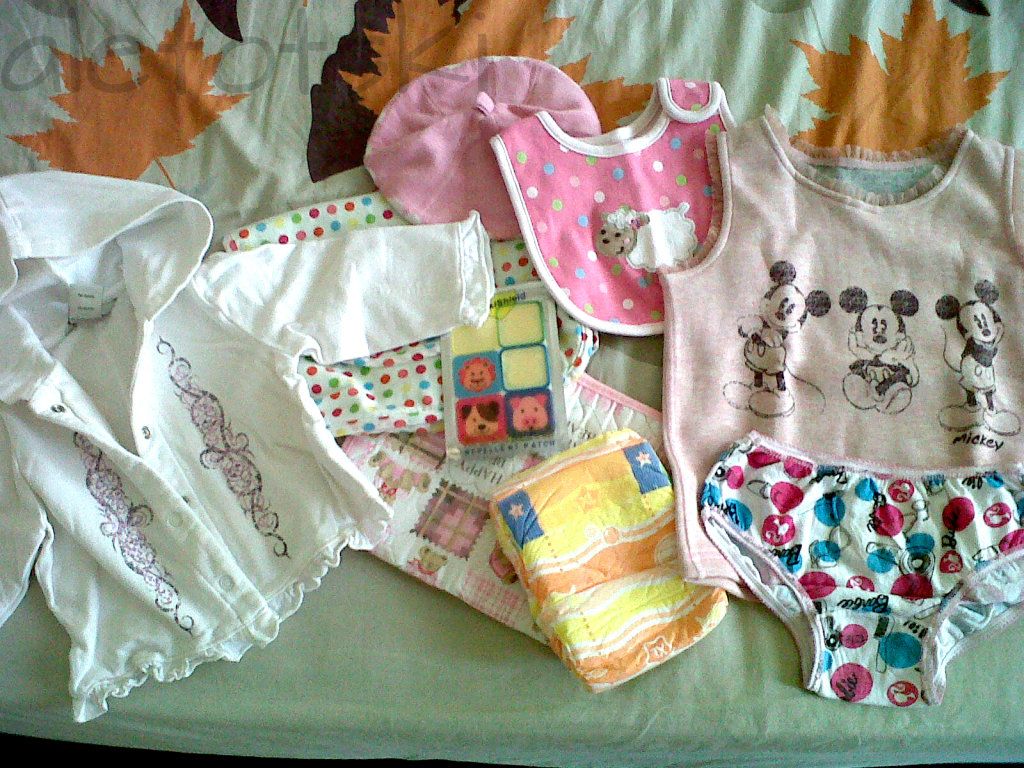 Oshkosh jacket, bazaar-bought beret, bib given as gift, Disney reversible shirt, EQ diaper, SM department store changing pad, anti-mosquito stickers, bag organizer.
I used to bring a pair of socks just in case but now that she's bigger, I don't feel the need for her to wear a pair. Especially now that she almost always wears sandals.
You'd think that's it but you're wrong. As Home TV Shopping would say, "But wait! There's more!"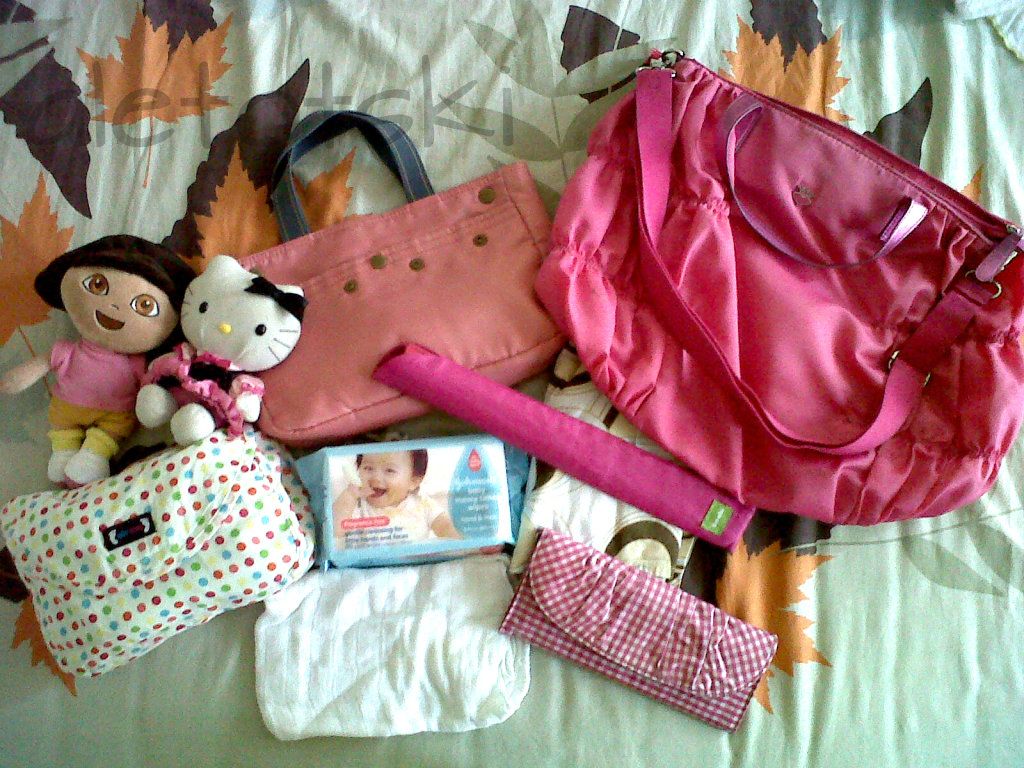 Dora and Hello Kitty stuffed toys, Ale bag organizer, Segue bag, Payless wallet, nursing cover gift, Beabi fan, Johnson & Johnson's baby wipes, Enfant burp cloth, Brianna bag organizer
The other things that aren't in any bag organizer are just thrown in. FYI, the most important item in their besides my wallet is the nursing cover. I am a breastfeeding mom and Brianna has become even more demanding with her milk intake lately that we won't even make it to the breastfeeding station before she throws a tantrum.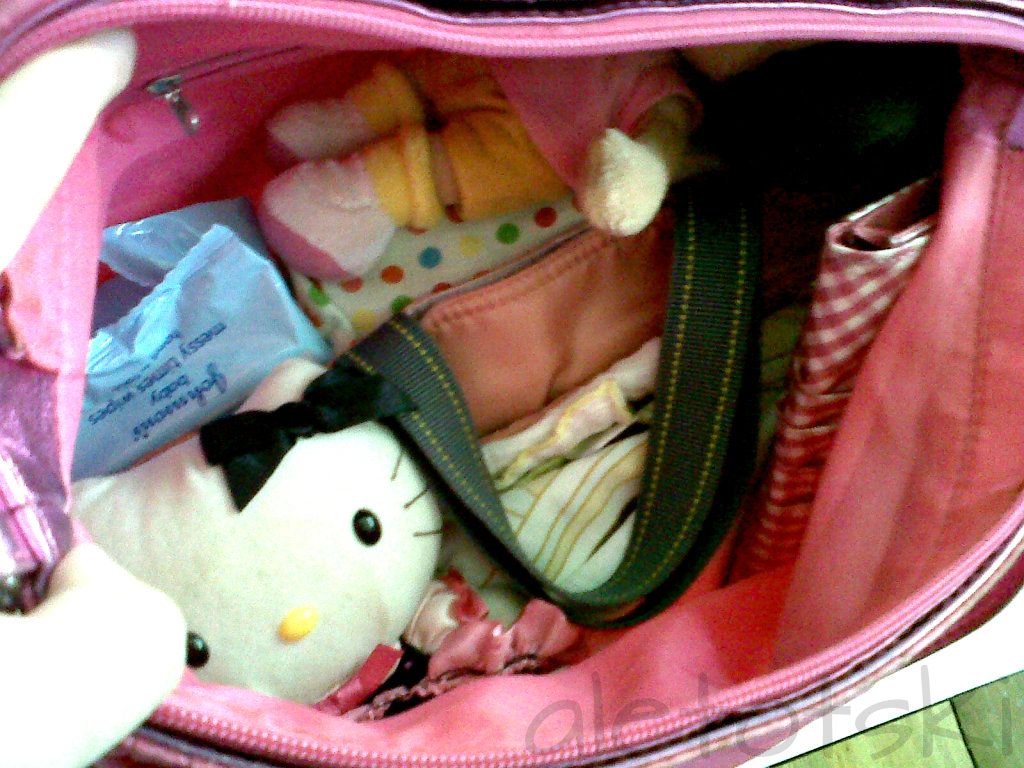 So, there you have it. A what's-in-your-bag blog post. Will be doing a what's-in-your-nightout-purse post next. It will probably take a year to post it, though.